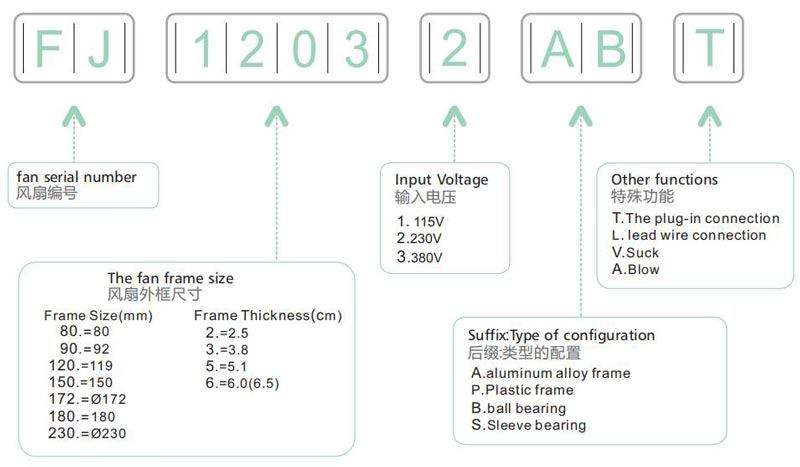 References are based on the frame dimension, which helps you to quickly select the best choice for your installation.
Example:
When your installation space is enough for dimention 120*120*38mm, please choose FJ1203
When you choose AC 220V, frame size 120x120x38mm, sleeve bearing, plug-in connection, please choose model FJ12032AST
We can customize your unconventional products.
---
Frame
Aluminium alloy die-casting, surfaces is finished by black anti-corrosion treatment.
Impeller
Black plastic PBT UL94V-0
Operation Temperature/Humidity Range: (under unconcretionary state)
-30℃ ~ +60℃ (temperature), 0% ~ 95% (himidity)
Protection
Impedance Protected
Withstand Voltage
AC 1,800V , 1 min at 0.5mA, 50/60 Hz
Insulation System
design according to IEC61858 Grade B,
Protection Grade
IP34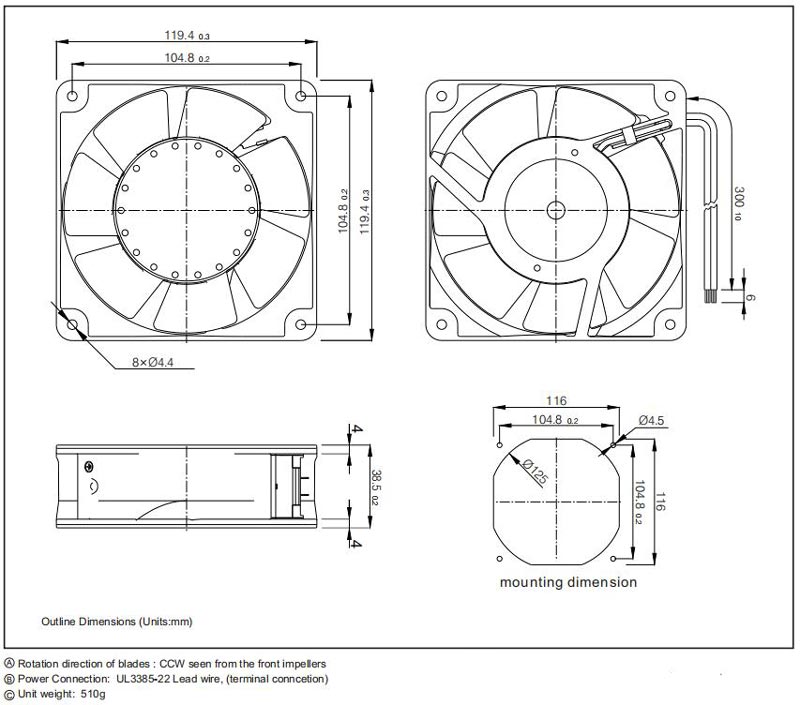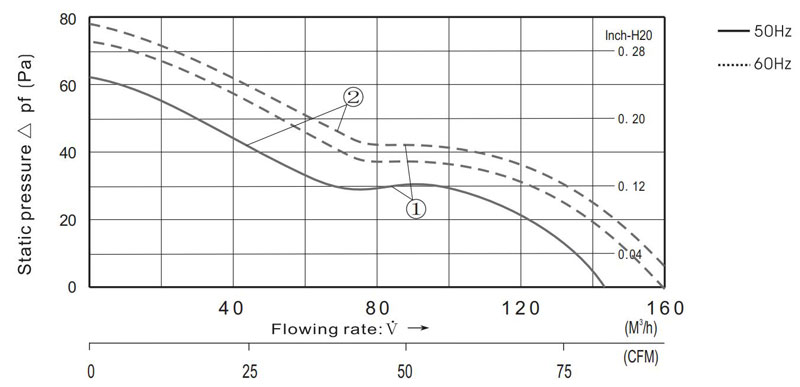 Type

Motor

Rated Voltage

Frequency

current

Power

Speed

Max Air Flow

Static Pressure

Noise

Curve

Capacitor Motor

V

Hz

(A)

(W)+10%-20%

(min-1)

CFM

m3/h

(Pa)

(dB)

(μF)

FJ12031AS

M2S6301-SB

115

50

0.24

18

2500

85

145

51

34

②

-----

60

0.20

15

2800

100

170

63

37

FJ12031AB

M2S6301-AB

115

50

0.24

18

2500

85

145

51

34

-----

60

0.20

15

2800

100

170

63

37

FJ12032AS

M2E6301-SB

230

50

0.12

19

2500

85

145

51

34

①

-----

60

0.10

14

2700

95

160

63

37

FJ12032AB

M2E6301-AB

230

50

0.12

19

2500

85

145

51

34

②

-----

60

0.10

14

2700

95

160

63

37

FJ12033AB

M2D6301-AB

380

50

0.07

18

2500

85

145

51

34

-----

60

0.06

16

2800

100

170

63

37